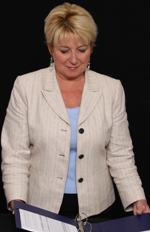 Expect only the best at the most affordable cost.  Benchmark is a certified woman-owned small business, making us a preferred provider for your AAP and OFCCP audit needs. Our plans have a 100% success rate and we provide professional support if you receive an OFCCP audit letter.  We will also help your company with required policies, procedures and systems.  Our team of experienced Human Resource Consultants can help you get into compliance quickly and easily. Our goal is to provide unparalleled service with experienced, professional resources whenever you need assistance.  Our vision is to continue expanding our services and support in concert with our wonderful clients.

That said, I am very proud to have founded a company that in 20 years has grown to have a reputation of unmatched dedication and service to our client base which represents companies of all types and sizes and a  presence in every state in the Nation.  We sincerely hope you will consider becoming a Benchmark client!  We believe that especially in these uncertain economic times, Benchmark is an affordable and smart solution.
I am looking forward to working with you next year.
All The Best,

– Elaine Smith, Owner and Managing Consultant, Benchmark Outsourcing Group
---
NEW SCHEDULING LETTERS AND AUDIT REQUIREMENTS
Benchmark clients have begun receiving the newly revised OFCCP scheduling letters for their audits.  These letters require that much more detailed information be submitted with the initial response than we have seen in the past.  There are also much broader definitions of compensation as well as information requested on outreach of Veterans and Disabled, assessments of policies and systems, etc.  If you receive an audit letter, you will have only a very short time to respond.  We will be happy to talk with you about your upcoming audit and help you develop a timeline and appropriate response within the required 30 days.
IMPORTANT! NEW AAP REQUIREMENTS FOR VETS AND DISABLED
Some very important changes went into effect 3/24/2014!  These changes include 7% benchmarks for Veterans, 7% utilization goals for Disabled, pre-offer, post-offer and existing employee self-ID's, new tracking requirements, letters, postings, language, etc. Additional information is available at the following links:VEVRAA FAQs are available at http://www.dol.gov/ofccp/regs/compliance/vevraa.htm
Section 503 FAQs are available at http://www.dol.gov/ofccp/regs/compliance/section503.htm
You may be aware that if you developed your annual AAP before the March 24, 2014 effective date, that AAP would follow the "old" rules so you were not required to track disabled or veteran applicants until your develop your AAP this year (2015). You should now be in compliance after having put the required systems in place and you should be ready to report your Veterans and Disabled information in the current plan.
To be sure that you are in compliance, I have been talking with each of our clients as you developed your plans.  We also issued revised compliance documents last year containing all of the letters, postings, requirements, etc.These changes are quite extensive.
We will make sure that you understand all of the requirements so that you can be 100% in compliance!
If you are not already a Benchmark client, I hope you will consider joining our group of satisfied clients! If you need a better understanding of the new rules and how they will affect you, please give us a call. We can help you understand these extensive new requirements, develop your AAPs and help you get into compliance.
Call Us Today (864) 277-8200
OFCCP Guidelines on Audits
Effective January 1, 2011, the OFCCP launched the enforcement protocol known as Active Case Enforcement (ACE). This initiative called for compliance evaluations consisting of any one or a combination of the following: compliance review, offsite review of records, compliance check or focused review. Also, full desk audits are conducted in all compliance evaluations with full compliance reviews for every 25th establshments. Indicators of potential discrimination may be of an individual and/or class in nature. This is a very different approach from the past ACM system which only utilized the compliance review methodology. Also in the past full desk audits were only conducted where there were indicators or every 25th case. Past reviews also focused on identifying systemic dscrimination where there were 10 or more affected class members.
Please Remember – Contractor Compliance is a REQUIREMENT- Give us a call today for free information about how we an quickly help you get into compliance with Affirmative Action Plans, Policies, Procedures, Postings, etc. This is not an option, it is a requirement if you receive Federal Contracts or Subcontracts and have at least 50 people and $50,000 in Contracts. All employees must be covered under plans.
We can also help you if you have received a Department of Labor Compliance Review letter. If you have, please call us immediately as there is a strict timeline on responding in the case of OFCCP Audits.
NEW – Employee Rights under NLRA Notification Requirements for Federal Contractors and Subcontractors
Effective June 21, 2010, Contractors and Subcontractors must post notices informing employees of their rights under the National Labor Relations Act (NLRA) and add required language to purchase orders and contracts. Contractors who post notices to employees electronically must also post the required notice electronically, which requires posting a link to the Department of Labor's website containing the employee notice. The poster and further information may be downloaded from the Department of Labor Website.
Learn How to Find the Best Affirmative Action Consultant for your Plans and Audits
If you are in the process of Affirmative Action Plan Outsourcing, please read our new article "How to Choose the Best Affirmative Action Consultant for your Company". Clients who request RFP's from Benchmark are telling us this is a difficult task, but it doesn't need to be this way. We hope this article makes the process easier for you.
Planning
The best approach to ongoing compliance and passing OFCCP audits is planning. We will help you plan a compliance strategy for up-to-date plans, policies, procedures, systems, postings and other requirements that will guarantee your compliance as a Government Contractor or Subcontractor.
Sample
We are pleased to provide references and sample reports for your review as you are selecting your AAP and OFCCP audit consultants.
Training
To help our clients be fully prepared, Benchmark provides training on requirements, forms, systems, postings, policies, trends, regulations, and ways to make a "Good Faith Effort" if underutilization is found in your Affirmative Action Plan. We want our clients to be in complete compliance – that's our goal.

Benchmark offers customer-focused, professional and confidential service. With extensive hands-on experience, ours is a personal, knowledgeable, confidential and customer-driven service – not an academic, clerically-based or cookie-cutter approach to your project or HR needs. We are able to achieve this goal because we have a commitment to your organization's success. Benchmark's owner encourages our clients to call her anytime they have a question or concern.
What To Expect From Benchmark
Unlimited phone consultation, personal and immediate attention — The confidence of knowing your projects are in total compliance with a very experienced SPHR Certified Consultant — Projects customized or developed with current, state-of-the-art software — Solid support for HR systems and required contractor systems — Current information on important regulations and trends in the workplace and with the OFCCP — Competent analysis and briefings so that you and your staff can get on track quickly and knowledgeably — The assurance that Benchmark has "hands-on" experience in Employee Relations, HR Systems, AAP Development and OFCCP Audits — All of this for a very reasonable and affordable cost with lucrative pricing guarantees
What We Do
We develop Affirmative Action Plans, support companies during OFCCP desk audits and on-site audits, develop company policy manuals, and provide HR Generalist Support for your day to day employee relations issues.
Many years of Affirmative Action and HR experience, our affordable prices and our Woman-Owned Business certification make Benchmark your number one choice!
Who We Are
Benchmark Outsourcing Group was founded 17 years ago by Elaine Smith, a senior level Human Resource professional with over 20 years experience in Affirmative Action and Human Resources.
Based in South Carolina, Benchmark currently has clients Coast to Coast. You will find that Benchmark is your solution for expert help regardless of where your facilities are located or your Human Resources or Affirmative Action needs.
Professional Recognition
Benchmark's Owner was included in the Presidential Who's Who Among Business and Professional Achievers for 2010, Princeton Premier Honors Registry for Professional Business Leaders and Nominated for the Professional of the Year Award for 2010. She was recently nominated for the GSA Business Suzanne Thaler Rising Star Award.
Elaine is SPHR Certified and recipient of the coveted SC Human Resource Professional of the Year Award, Small Business Success Award, local HR Professional of the Year Award, and numerous other awards for professional excellence. She developed a project for a client that won the prestigious National Pinnacle Award – National SHRM's highest award given to only eight out of hundreds of entries submitted from across the Nation each year.
---
Get the personal customer service you want and deserve for your AAP, Policy Manual, Employee Relations and general HR needs.
You will receive experienced, knowledgeable and personal service every time you deal with Benchmark.
As a client of Benchmark, you will receive the same professional and personal service that has won us recognition as a top practitioner in the field of Human Resources.
We pride ourselves in staying up to date on changing workplace laws and regulations so that our clients can trust that they are in compliance. We generally do not need to visit your location to work with you and we offer our services at a very competitive and affordable price.